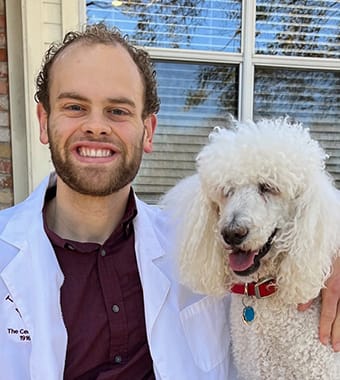 Dr. Cordell Rech
Dr. Rech grew up in San Antonio, TX where he had the opportunity to shadow his family veterinarian as a senior in high school. From this mentorship program, Dr. Rech's love of animals grew and he started his career as a kennel technician at the very same clinic his family had used for all their pets. Over the summers, he worked his way up eventually becoming a treatment technician.
He completed his undergraduate in Arkansas, before attending Texas A&M for vet school. During his time at Texas A&M, he focused on small animal and exotic medicine through advanced programs and electives, dealing with everything from pocket pets to wildlife. After graduating from Texas A&M, he pursued continued training as a Small Animal Medicine and Surgery intern at Blue Pearl Sonterra in San Antonio, and an Exotic Animal Medicine and Surgery internship in South Wilton Veterinary Hospital in Wilton, CT.  Upon completing his internships, he accepted a position in Albany, NY at Shaker Animal Hospital, but eventually decided to return to his home state.
Dr. Rech has been practicing veterinary medicine since 2016 and back in Texas since 2019. Dr. Rech has two standard poodles, Lily and Rose, as well as five Japanese Fire-bellied Newts and enjoys gardening, swimming and reading in his free time. While reptile and amphibian pets are his passion, he loves treating every species and looks forward to meeting new pets and families every day.